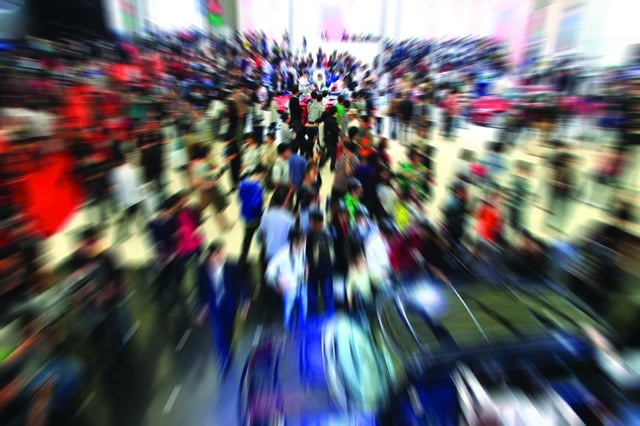 2016 is wrapping up with a few big machining and metalworking trade shows in the offing; including ABM, IMTS and JIMTOF to name a few. But with all the information available online, you can easily access the material you need regarding CNC metalworking equipment, machine tools and new machining technologies right from the comfort of your office chair. So why pack a bag, book a hotel, bust your budget and rush halfway around the world to attend a trade exhibition?
In the world of CNC machining, those in the know want to experience it up close and personal - in real-time. Nothing beats a live demonstration of the latest advances in machine building, seeing a new cutting tool in action or witnessing how technology platforms, support equipment and smart devices are now changing the way we work.
5 FACTORS THAT MAKE TRADE SHOWS THE PLACE TO BE:
P2P POWER: Aside from seeing all the cool new stuff on offer, there is one truly compelling reason to attend an international trade show in person: People do business with people. Your physical presence at a show will have infinitely more impact on a prospect's perception of your company than all the pages in your website combined.
ADVERTISING ISN'T ENOUGH: Adverts, product brochures or social media posts don't sell – people do. Promotional materials encourage prospects to contact your sales staff, but it's that person to person rapport; finding common ground, sharing knowledge and a simple smile, that builds business relationships. Only people can convey trust, confidence and enthusiasm for your capabilities and products.
THE STATS AGREE: Trade show attendees polled said face-to-face interactions at exhibitions are more valuable today than ever, despite all the technology available that can connect people. "Attendees placed high importance on face-to-face interactions at all pre-purchase stages, with two-thirds or more ranking these interactions important for investigating, evaluating and narrowing down choices before selecting a vendor."
COMPETITION IS KING: You know the old adage 'you need to be where your competitors are'. What you may not realize, is that your competitors can play a key role in your company's ability to grow, change, innovate and identify opportunities. Trade shows provide you with a perfect window into what your competition is doing (or not doing), how they're doing it and who their doing it with.
OUT OF SIGHT-OUT OF MIND: Your absence at a trade show will be noticed and can tell a story about your company even without you being there. Don't let your absence do the talking or work to the advantage of your competitors.
So whether you're a trade show gold exhibitor or just a roving visitor, we think in order to boost your brand and grow your business, you definitely have to be there.
Look for Colibri's innovative coolant-driven high-speed Jet Spindle at your next visit to a major global machining industry expo. Check out our website's Events Page to see where we will be showing, or simply submit the form and we'll be happy to set up a personal meeting.
What's your take on industry trade shows - are they worth it?