There are some obvious expectations when it comes to cutting fluid—high thermal conductivity for cooling, good lubricating qualities, stability against oxidation and corrosion prevention to name a few. But if you want to optimize your machining operation, you have to ensure you're using the right type of fluid for the job. Don't take your fluid for granted—make sure the choice you make can support your needs.
Dig deeper than the basic characteristics of good cutting fluid and understand your four options: straight oils, soluble oils, total synthetics and semi-synthetics.
Understanding Straight Oil Cutting Fluid
Straight oils are made of 100% petroleum. Despite high costs compared to other options, these cutting fluids are great for low speed cutting with a need for high surface quality. Consider these benefits and use cases before buying straight oil fluids:
Top choice for lubricity.
Maintenance is easy compared to some other options.
Good rust protection.
Great for severe cutting conditions and honing processes.
Soluble oils are limited in their uses because they have poor cooling qualities. Because of the poor thermal qualities, soluble oils are relegated to the low-speed severe cutting processes they work best in. A true master of one process, but you'll need other fluid for other applications.
The More Versatile Soluble Oils
Soluble oils take the 100% petroleum straight oils and add 10% to 40% water. The result is a general-purpose fluid that is more versatile than straight oils. The general-purpose fluid is best for light to moderate machining, but consider the following before heading in this direction:
Soluble oils can achieve straight-oil functionality with additives (though this shouldn't be the main option in heavy machining processes).
Good lubrication with improved cooling capability for higher speed applications.
The added water increases rust issues and bacterial growth.
Without proper maintenance, precipitates can form and degrade surface quality.
Soluble oils and straight oils are the two oil-based options you have for cutting fluid, but consider your chemical options as well.
Where do Total Synthetics Make Improvements?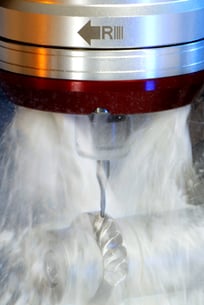 Engineers have made strides toward improving cutting fluids by introducing chemical mixtures. By eliminating oils all together, total synthetic options offer the following benefits:
High quality cooling and lubricating capabilities.
Great for high-heat and high-velocity applications in which oil-based fluids won't work.
Greatly increase service life and simplify maintenance processes.
While the benefits seem more suitable for modern high-speed machining processes, it's important to understand the key disadvantages before diving into synthetics:
Misting causes health concerns for anyone working in the machining environment.
Some lubricity is sacrificed for greater cooling qualities.
Without proper care, synthetics can be contaminated easily and wreak havoc with surface quality.
If these disadvantages are too concerning, you can try a more versatile semi-synthetics solution.
Semi-Synthetics: Bringing Oil Back to Synthetics
Semi-synthetics aim to improve synthetic fluids by introducing 2% to 30% oil back into the mixture. While this addition has its advantages, it's certainly not a perfect fit for all processes. Consider the following benefits:
Jack-of-all-trades, good for a wide range of high- and low-speed applications.
Reduced misting to cut down on health hazards.
Good balance of cooling and lubricating qualities.
Easy maintenance and improved tool life.
Similar to soluble oil solutions, semi-synthetics are a type of general-purpose fluid. Everyone can benefit from semi-synthetics, but there are disadvantages as well:
Water hardness can cause machining issues and poor surface quality if not maintained.
Semi-synthetics are susceptible to contamination by other fluids in the machining process.
Good lubrication, but not quite as good as soluble oils.
Which Fluid is Best for You? That Depends
If there's one thing that should be obvious, it's that each type of cutting fluid has its own distinct benefits and disadvantages. No one has come up with an option that is far superior than the others in every way. When choosing your cutting fluid, consider the applications you need to cover and avoid choosing a general-purpose fluid as an easy way out.
Which cutting fluids work best in your environment? Let us know in the comments below!