As any craftsman will tell you, it's important to take care of your tools – and it's no different in CNC machine environments. Small tools must be properly maintained to ensure that they remain effective and jobs can be run as efficiently as possible. Additionally, it lowers the risk of breakage related accidents and work stoppages. However, when small CNC machine tools are used under ideal conditions, it is possible to extend their life far beyond manufacturer expectations.
To extend the life of your small CNC machine tools, one of the best things that you can do is to continuously use them according to manufacturer specifications. In essence, this comes down to optimizing machine speeds/feeds for the materials and applications being run.
Recommended Cutting Speeds - Machining Data for Solid Carbide End Mills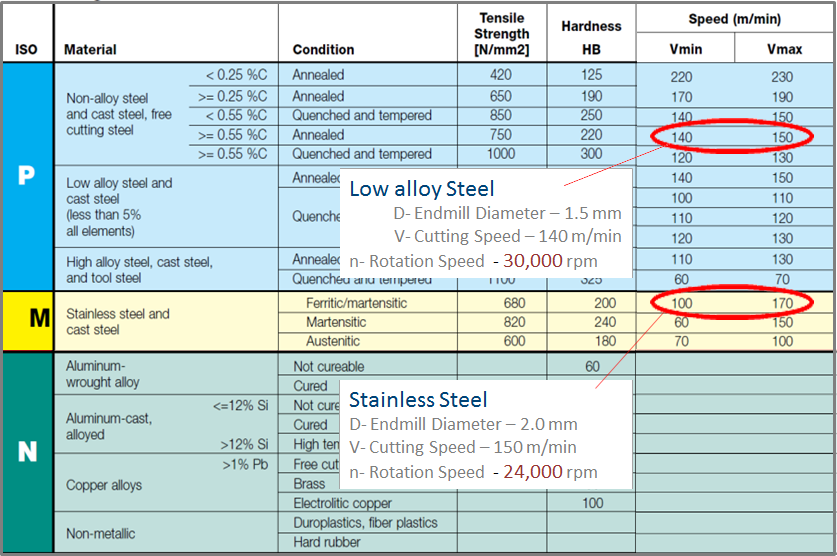 If you are still operating a standard CNC machine, you may want to upgrade to a high speed machine spindle in order to reach the recommended speeds.
One of the biggest problems machinist face when trying to extend CNC tool life is knowing exactly how fast they're being operated at. Even the majority of high-speed machines spindles don't provide accurate RPM readings. If you have to guess how fast applications are being run, you can't guarantee that you're truly optimizing tool life. Look for a solution like the Typhoon HSM Jet spindle that offers an LCD readout that reports accurate CNC machine RPMs in real-time.
Once you have optimized CNC machine speed/feed rates for each small tool application, it is important to check your coolant systems. It is critical that tools are properly bathed in coolant throughout the application work to reduce wear and tear.
Operating at manufacturer recommended speeds and ensuring coolant flow may seem like simple adjustments, however, we've seen them pay big dividends. As one of our customers discovered, the same drill that used to give out after 13,000 operations can now perform 300,000 operations without issue.

Photo credit: andy.simmons / Foter / CC BY-ND
Clearly any steps taken to improve CNC tool life will significantly benefit the operation as a whole. When application work is performed at optimal speeds and there is less downtime from tool breakage, throughput will increase proportionally. At the same time, companies can reduce costs as they no longer have to constantly replace worn out tools. Extending tool life is an important goal for any company looking to work more productivity and cost-effectively.
What are you doing to extend the life of your CNC machine tools? Let us know in the space below.