Increasing throughput is a key goal for every manufacturer. In the world of CNC machines, speed is money and production companies must find a way to move faster.
This post is the first in a series that will showcase how high speed machining (HSM) spindles can be used to increase the productivity of specific applications. The first application we'll look at is slot milling.
Breaking down the numbers
In the slot milling showdown, a standard machine spindle was pitted against an HSM spindle. Let's take a look at the numbers presented in the video comparison.
The two spindles were programmed to cut five slots; a typical operational situation. The regular or original machine spindle ran at 9,000 rpm, cutting at a feed rate of 350 mm/min to complete the test in 5 minutes and 4 seconds. This may be the norm for machining, but it shouldn't be anymore.
The HSM spindle ran at 38,000 rpm, cutting at a feed rate of 1,500 mm/min to complete the test in 1 minute and 20 seconds. With more than four times the performance power, the HSM spindle finished its slot milling in about a quarter of the time as with the original machine spindle.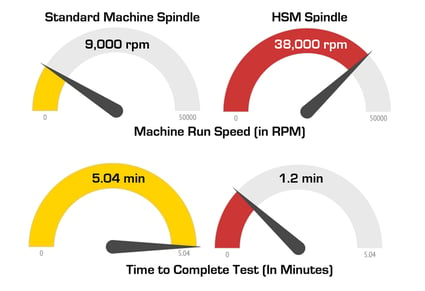 If speed is money, can manufacturers afford to ignore these results?
The HSM Coolant-driven Jet Spindle has the answer… Machines need coolant to operate. The Typhoon HSM Jet Spindle uses the machine's own coolant to achieve high rotational speeds. With drastically increased speed and performance, HSM Jet Spindles can save manufacturers valuable time while increasing CNC machine throughput. In addition, it saves money on operating costs by utilizing a resource freely available in the machine.
In the next post, we'll look at milling profiling applications and see if HSM Jet Spindles can perform at such a high level in a more intense operational process.