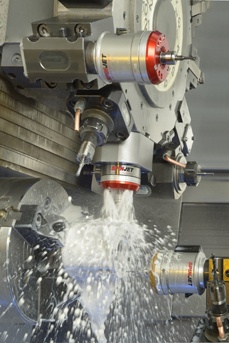 In the world of CNC machining, it seems as if speed increasers has slowly but surely lost their appeal and developed a less than stellar reputation. While the idea of a speed increaser offered tremendous promise – faster machining, increase throughput, higher productivity – its drawbacks soon eclipsed its benefits.
That's why at Colibri we developed our high speed machining (HSM) spindle. Today, the average speed increaser is considered far too clunky to be of value – they don't always work with existing CNC machinery, tools, tool changers or magazines. They often require extensive modifications to both equipment and workflows before a company can take advantage of their higher speeds.
With a deep understanding of CNC machines and associated processes, we designed a solution that delivers more than just increased RPMs. It offers:
Plug and Play Installation: Our compact HSM spindles attach directly to CNC machine and work without further modification. They do not require additional coolant or power resources.
Non-disruptive to Inline Processes: Our solutions are compact enough to fit within standard ATC and tool magazines for seamless integration into existing workflows. They support the full range of small tool applications, from drilling and milling to chamfering and threading and much more...
Extended Life for Tools: By directing the coolant flow to the exact spot where the work is being performed, our HSM spindles keep your tools under water at all times. This significantly reduces wear and tear. At one of our customers – the same drill that used to give out after 13,000 operations can now perform 300,000 operations without issue.
Extended Life for Machinery: The Colibri HSM spindles were carefully designed to seamlessly integrate with existing CNC equipment. While our spindle is in use, the CNC machine spindle remains completely idle. This extends the life of the CNC machine spindle as we do not create additional wear and tear on the machine when it's working at higher speeds.
Green, Energy Saving Solution: Because the HSM spindle utilizes your existing coolant system to operate the tool and does not draw additional power, our solution dramatically reduces energy consumption while at work or at rest.

If you just looking for high RPM, maybe you can go only with a speed increaser. However, if you are looking for productivity and cost-efficiency in both the near and long term, we recommend choosing a high speed machining spindle. If you ask our customers and distributors, you'll find its reputation actually improves with use.